"Sphinx", Stone 4b, West Kennet Avenue
Stone 4b is clearly different from the other surviving stones of the West Kennet Avenue. Its size and proportions provide a striking departure from the Avenue's more typical lozenge and pillar shaped stones, and looks to me very much like a crouching beast. While it has been compared to real animals to me it cuts a more mythological figure, there is a clear human face visible at the top left quadrant of the stone as shown in my photograph. While I am very sure Egyptian terminology is inappropriate here, the overall effect is reminiscent of a Sphinx, a stone crouching beast with a human face.
Below is a diagram of the main face, and this also shows a crude eye slit which may well be intended to animate the megalith when seen square on from the side - in other words the sphinx has a second face. This would have been needed because the main face would sometimes have been hidden from some viewpoints as vistors moved down the Avenue.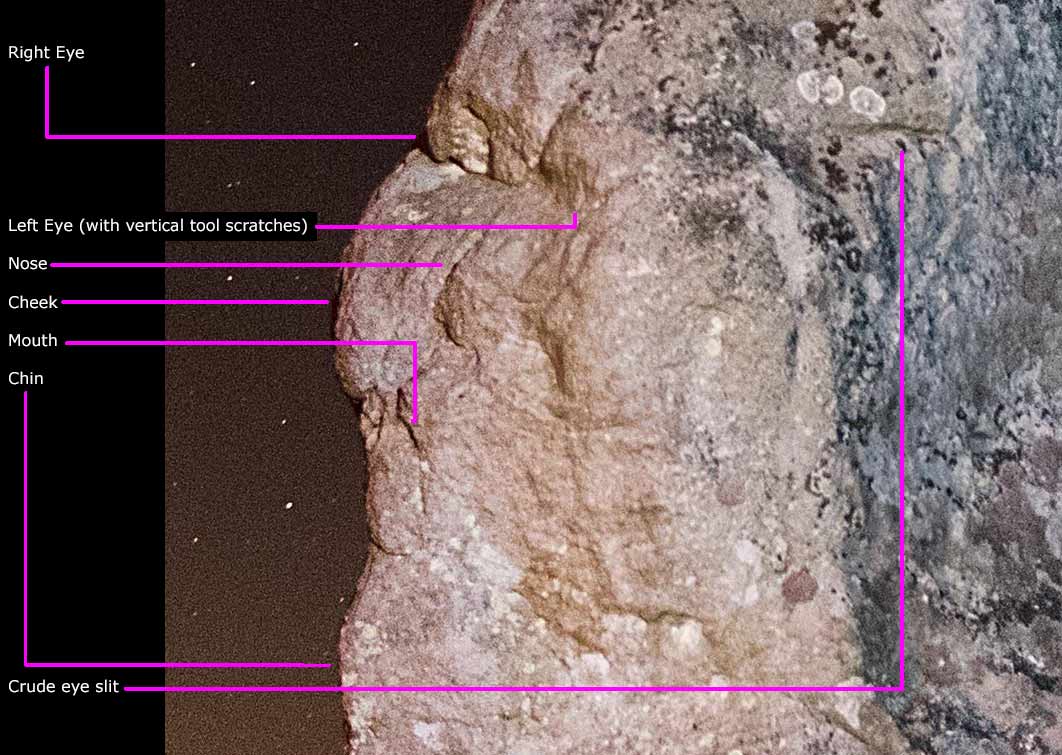 I think that the position and orientation of this guardian figure at the henge end of the Avenue is revealing. There is a mystery whether the West Kennet Avenue was designed for people (or spirits) to move down south away from, or northwards towards the main Avebury henge. The size, unusual shape and orientation of this beast suggests to me that it was intended to greet visitors (whether physical or spiritual!) leaving the henge and moving southwards towards the Sanctuary on Overton Hill or the North Kennet Spring.
If visitors were intended to visit the henge moving the other direction, from south to north, they wouldn't approach the sphinx from its front, but from behind, which would be illogical!