Curated for inclusion in the UK Selective Archive since 2008
---
"Your night photography is beautiful, especially love Windy Night and the Lady Chapel at Wells. I am a lover of night photography, mainly discovered via the internet and yours is special. Carry on!"

~

Susan Hill, Author of "The Woman in Black"
---
The highly revered night photography teacher Steve Harper linked his site to the personal websites of only 11 photographers. Nightfolio was one of them (per Internet Archive instance of http://www.steveharperphotography.com dated 2nd May 2012)
---
"While Brassai and Schwab use electric sources to light their images, British photographer David Baldwin uses the limited light available from the night sky to illuminate his images. He finds this light using long exposure times, and by escaping the light pollution of the city to focus on nature in the English countryside."

~

Weburbanist, "10 Unusually Talented Night Photographers: The History and Art of Night Photography"

---
Night Photography Review ~ Amateur Photographer 03/01/2004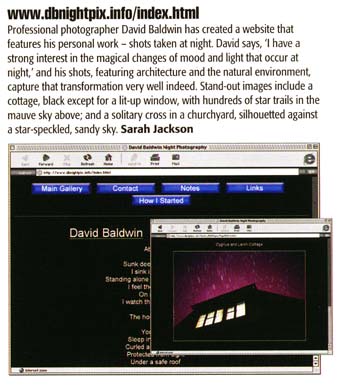 ---